European Commission Report covering main developments in the European postal sector from 2017 to 2021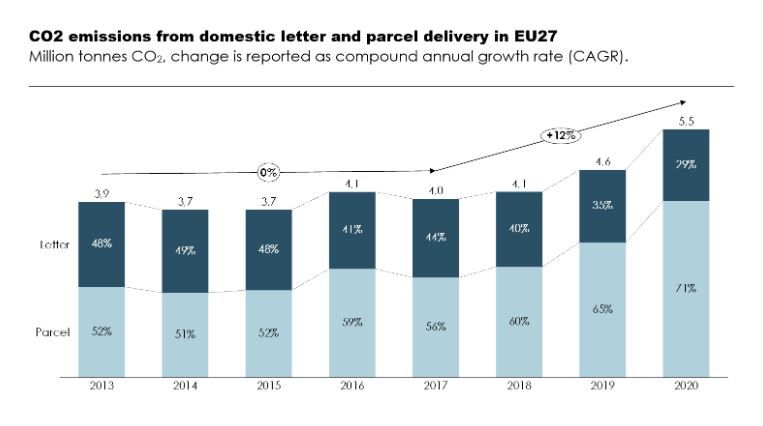 (Picture: Cathrine Arctander Grimseid / LinkedIn)
The European Commission just published a report covering the main developments in the European postal sector from 2017 to 2021.
The postal and delivery sector generated around 𝐄𝐔𝐑 110 𝐛𝐢𝐥𝐥𝐢𝐨𝐧 𝐢𝐧 𝐫𝐞𝐯𝐞𝐧𝐮𝐞 𝐢𝐧 2021 (0,8 per cent of total GDP) and 𝐞𝐦𝐩𝐥𝐨𝐲𝐞𝐝 𝐚𝐫𝐨𝐮𝐧𝐝 1.5 𝐦𝐢𝐥𝐥𝐢𝐨𝐧 𝐩𝐞𝐨𝐩𝐥𝐞 (0.7 per cent of total employment in EU-27) across the EU-27 Member States
This study is conducted by Copenhagen Economics and describes, and assesses the most important evolutions in the letter and parcel delivery markets in the 27 Member States of the European Union, the United Kingdom, and the EFTA countries of Iceland, Liechtenstein, Norway, and Switzerland.
The report is taking into consideration the impact of the covid-19 pandemic and other relevant external events on the postal sector and also outlines the most significant evolutions of the regulatory framework in the Member States.
The study provides insights on:
* Important postal developments 2017-2021
* Developments in the universal service and consumer protection
* The competitive landscape in the European postal sector
* Employment in the postal sector
* Environmental impacts of the postal services logistics value chain
* The impact of the covid-19 pandemic on the postal sector
* Cost structure, retail prices and rebates of parcel delivery
The 𝐝𝐞𝐜𝐥𝐢𝐧𝐢𝐧𝐠 𝐥𝐞𝐭𝐭𝐞𝐫 𝐩𝐨𝐬𝐭 𝐯𝐨𝐥𝐮𝐦𝐞𝐬 and the 𝐢𝐧𝐜𝐫𝐞𝐚𝐬𝐢𝐧𝐠 𝐩𝐚𝐫𝐜𝐞𝐥 𝐯𝐨𝐥𝐮𝐦𝐞𝐬 are continuing to cause fundamental challenges for postal market stakeholders, but also the 𝐞𝐧𝐯𝐢𝐫𝐨𝐧𝐦𝐞𝐧𝐭𝐚𝐥 𝐢𝐦𝐩𝐚𝐜𝐭 of the postal sector is assessed.
The booming e-commerce volumes have 𝐢𝐧𝐜𝐫𝐞𝐚𝐬𝐞𝐝 𝐭𝐡𝐞 𝐞𝐧𝐯𝐢𝐫𝐨𝐧𝐦𝐞𝐧𝐭𝐚𝐥 𝐟𝐨𝐨𝐭𝐩𝐫𝐢𝐧𝐭 of the EU postal sector between 2017 and 2021.
Whereas CO2 emissions from domestic letter mail and parcel deliveries in the EU were relatively constant between 2013 and 2016, from 2017 𝐭𝐨𝐭𝐚𝐥 𝐞𝐦𝐢𝐬𝐬𝐢𝐨𝐧𝐬 𝐢𝐧𝐜𝐫𝐞𝐚𝐬𝐞𝐝 𝐛𝐲 𝐚𝐧 𝐚𝐯𝐞𝐫𝐚𝐠𝐞 𝐨𝐟 12 𝐩𝐞𝐫 𝐜𝐞𝐧𝐭 𝐚𝐧𝐧𝐮𝐚𝐥𝐥𝐲.
This shift is not only a result of more parcels being delivered. It is also due to the fact that 𝐭𝐡𝐞 𝐂𝐨2 𝐢𝐦𝐩𝐚𝐜𝐭 𝐩𝐞𝐫 𝐩𝐚𝐫𝐜𝐞𝐥 𝐬𝐭𝐚𝐫𝐭𝐞𝐝 𝐭𝐨 𝐢𝐧𝐜𝐫𝐞𝐚𝐬𝐞 𝐢𝐧 2018 after having declined consistently for several years.
You find link to download the report in the comment below