Standardization of the postal sector in Europe: Interoperability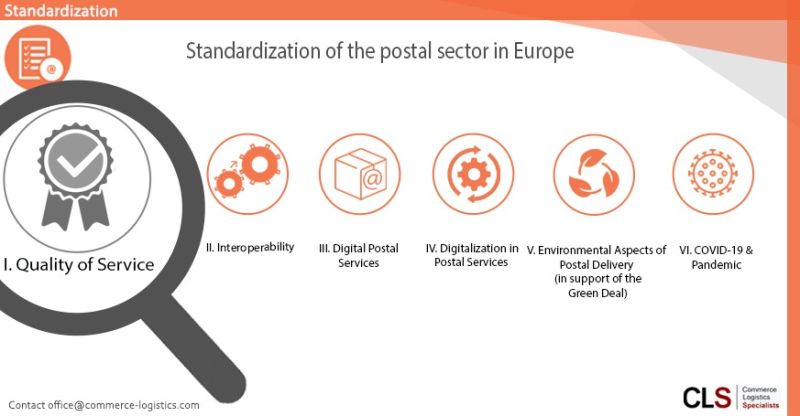 The European Committee for Standardization (#CEN), through its Technical Committee 331 (TC331) "Postal Services", is entrusted with drawing up #technicalstandards for Europe's postal sector, in response to standardization requests issued by the #EuropeanCommission and in accordance with European legislation. In doing so, it will take into account the harmonization measures already adopted internationally, especially those agreed by the Universal Postal Union.
Given the holistic approach taken by CEN/TC331 and its commitment to serve the #postalsector in the EU/EEA, CEN's method is to work with a network of national standardization bodies and to involve all relevant parties, including SMEs and societal #stakeholders. #Europeanstandards for postal services are developed by CEN/TC 331 experts with a range of different backgrounds and from a variety of countries and organizations. 
Since 1996 the Commission has issued a total of four postal service standardization requests. While the first request was for the automation of postal processes and postal equipment, primarily for letter post, since 2008 #harmonization and #standardization has focused on creating tools to measure #quality of service and facilitate #interoperability between actors in the postal value chain.In 2016, with the growing importance of #ecommerce, there was a shift to include #parceldelivery, as expressed in the last standardization request. This shift remains relevant, given the continued trend of growing parcel #volumes and shrinking letter volumes. 
The most recent request is for #technicalstandardization. This has been identified as indispensable for the promotion of interoperability between national networks, in particular cross-border parcel #delivery, and to ensure an #efficient universal service within the European Union. Interconnected postal networks and interoperability are essential for the single market, and the latest project (standardisation deliverables) has been targeted at this need. 
With respect to ecommerce consignments (supplies to end consumers and including transactions), CEN/TC331 has been mandated to develop and, where necessary, revise European standards on security and customs clearance #requirements for #electronicadvanceddata. The European standards must align with international standards adopted by the World Customs Organisation (#WCO), the Universal Postal Union (#UPU), and the respective WCO and UNECE Data models, and promote interoperability of parcel delivery operations, thereby helping to promote the creation of a Digital Single Market for the European Union.
Click here for the LinkedIn-Article.