Out of home (OOH) & Automated Parcel Machine (APM) delivery – will open or closed network models predominate?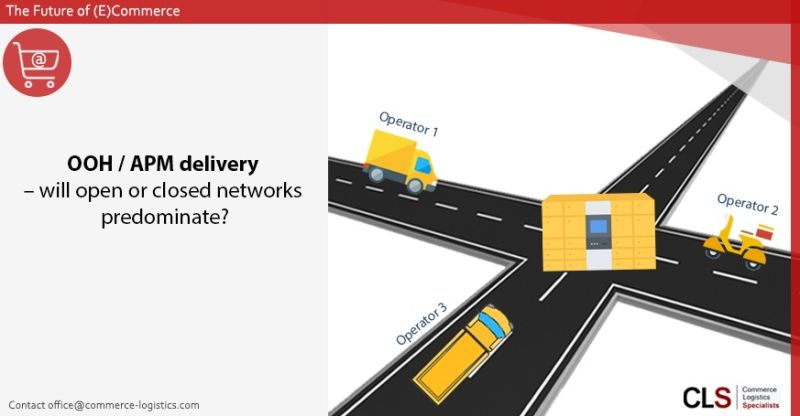 𝗢𝘂𝘁 𝗼𝗳 𝗵𝗼𝗺𝗲 (𝗢𝗢𝗛) & 𝗔𝘂𝘁𝗼𝗺𝗮𝘁𝗲𝗱 𝗣𝗮𝗿𝗰𝗲𝗹 𝗠𝗮𝗰𝗵𝗶𝗻𝗲 (𝗔𝗣𝗠) 𝗱𝗲𝗹𝗶𝘃𝗲𝗿𝘆 – 𝘄𝗶𝗹𝗹 𝗼𝗽𝗲𝗻 𝗼𝗿 𝗰𝗹𝗼𝘀𝗲𝗱 𝗻𝗲𝘁𝘄𝗼𝗿𝗸 𝗺𝗼𝗱𝗲𝗹𝘀 𝗽𝗿𝗲𝗱𝗼𝗺𝗶𝗻𝗮𝘁𝗲?
𝘛𝘩𝘦 𝘍𝘶𝘵𝘶𝘳𝘦 𝘰𝘧 𝘓𝘢𝘴𝘵 𝘔𝘪𝘭𝘦 𝘋𝘦𝘭𝘪𝘷𝘦𝘳𝘺 𝘗𝘢𝘳𝘵 2
𝗢𝗢𝗛 𝘀𝗼𝗹𝘂𝘁𝗶𝗼𝗻𝘀 𝗮𝗿𝗲 𝗰𝘂𝗿𝗿𝗲𝗻𝘁𝗹𝘆 𝗳𝗹𝗼𝘂𝗿𝗶𝘀𝗵𝗶𝗻𝗴 
There has never been a better time for #OOH delivery. Supported by current #markettrends, companies focused on OOH/APM delivery are growing at above average rates.
However, installing large numbers of #APMmachines in Europe is not in itself a guarantee of #success; there needs to be a willingness to respond to and capitalize on future market demands at an early stage.
𝗟𝗲𝗴𝗶𝘀𝗹𝗮𝘁𝗶𝗼𝗻 𝗮𝗻𝗱 𝗿𝗲𝗴𝘂𝗹𝗮𝘁𝗶𝗼𝗻 𝗺𝗮𝘆 𝗰𝗵𝗮𝗹𝗹𝗲𝗻𝗴𝗲 𝘁𝗵𝗲 𝗰𝗹𝗼𝘀𝗲𝗱 𝗻𝗲𝘁𝘄𝗼𝗿𝗸 𝗺𝗼𝗱𝗲𝗹
There is already #competition between open, multi-carrier #networks and the closed #networks run by individual #operators. Unsurprisingly, many large carriers make "their" APM networks accessible only to their own #customers. This follows a natural but perhaps shortsighted urge to exploit their current market position.
#Developments in the #EU indicate that current legislation and related regulation is already beginning to impact these networks, and this will only increase in the future: 
-Like mailboxes, APM are systemic delivery points. 
-Mailboxes have been treated as essential infrastructure and opened up through legislation and regulation; it seems likely that APM and other unattended delivery infrastructure will be treated similarly, particularly in light of the increased significance of parcel delivery.
-Open models usually lead to more efficient network utilization and "greater" carbon neutrality.
𝗡𝗼 𝗮𝗰𝗰𝗲𝘀𝘀 𝘁𝗼 𝗔𝗣𝗠𝘀 𝘄𝗶𝘁𝗵𝗼𝘂𝘁 𝗮𝗱𝘃𝗮𝗻𝗰𝗲 𝗱𝗮𝘁𝗮 
Electronic advance data (#EAD) is now mandatory, whether #shipments are sent intra-EU or cross border. In some EU member states, it is even required for domestic shipments. The #transmission and #dataavailability of the #shipment content are standardized:
-An HS 6-digit code, as a generic description of the content, plus an individual description of the content (i.e., GS1's GTIN), is likely to become mandatory when using APM. The authorities in some EU MS already demand such information. The data is already available at shipment level.
-Use of this data could also defuse operators' current liability issues, i.e., when narcotics or illegal firearms are delivered via APM. Data in advance would stop the potentially illegal or criminal use of OOH or APM delivery.
Standardized electronic advance data makes closed APM networks a matter of choice, rather than a technological necessity. Open access to APM networks is likely to trigger new #businessmodels, including new players.
Click here for the LinkedIn-Article.