UPU: Reduction of greenhouse gas emissions in the postal sector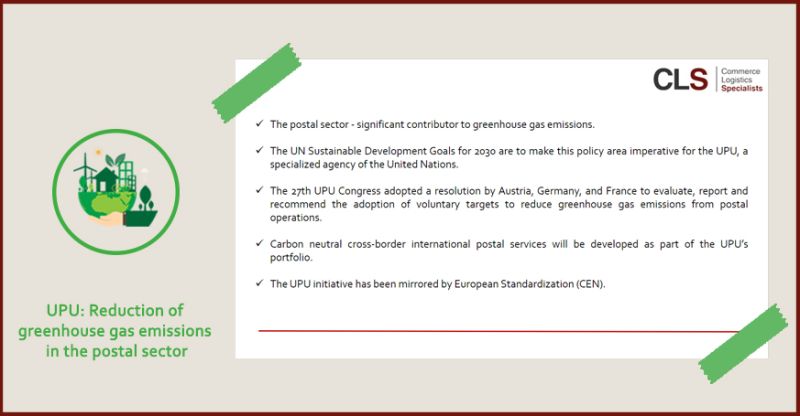 With its cross-border transport network, universal reach even to the remotest areas, and transport-intensive daily last-mile delivery, the postal sector is a significant contributor to global greenhouse gas emissions, making reduction efforts in this sector particularly relevant.
The UN Sustainable Development Goals for 2030 make this policy area imperative for the UPU, a specialized agency of the United Nations.
The 27 UPU Congress adopted a resolution by Austria, Germany, and France to evaluate, report and recommend the adoption of voluntary targets to reduce greenhouse gas emissions from postal operations over a set period, taking into account nationally determined contributions and #climatechange goals under the Paris Agreement on climate change. Knowledge sharing among designated operators and other postal sector entities on carbon offsetting emission reduction strategies, climate finance and climate adaptation measures will be assured.
Carbon neutral cross-border international postal services will be developed as part of the UPU's portfolio of optional services between #operators, drawing on the reporting of greenhouse gas emissions caused by receiving, sorting, transporting, and delivering postal shipments per item in member countries where such reporting is already available for domestic or international services.
The UPU initiative has been mirrored by European Standardization (CEN) in its #standardisation request for the next 4 years for the postal sector, defining a methodology to calculate and report the end-to-end parcel transportation environmental impact, with the help of existing logistic environmental norms, as well as developing innovative solutions to achieve effective and environmentally sound delivery.
Given the urgency and sector specific dedication, both in #Europe and globally, we expect compliant standards, products, and services within the next 18 – 24 months.
#climatechange #sustainability #energy #sustainabledevelopment #climateaction #environment #renewableenergy #climate #finance #post #postalworld #EU #global #upu #plan #UN #goals #goal #congress #greenhouse #changes #actions #sustainable
Click here for the LinkedIn-Article.