One of the first new UPU/CC members: Ship2MyID ships to any mobile email, or digital ID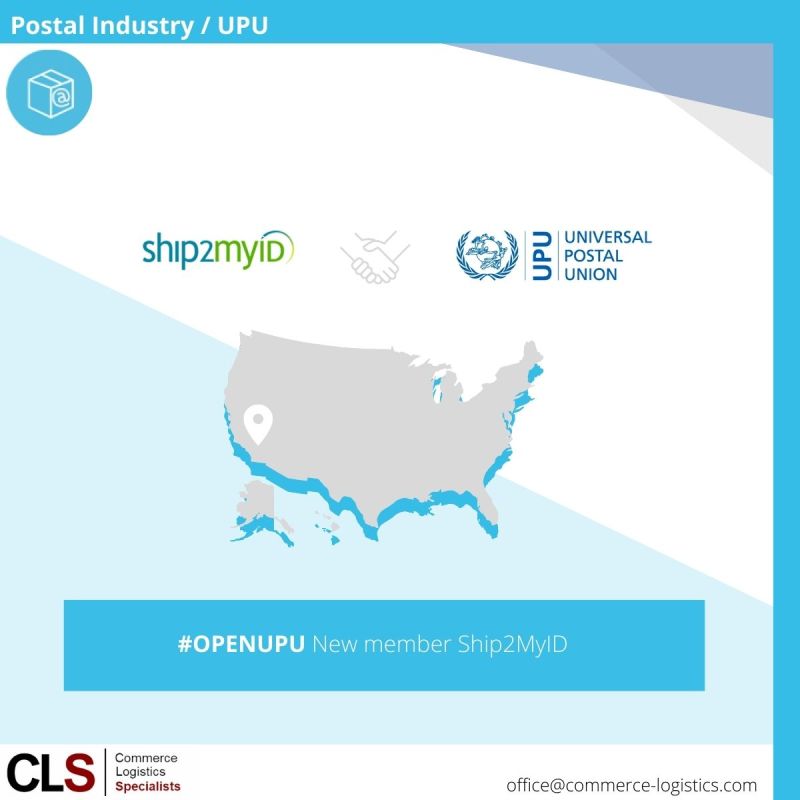 #𝗢𝗣𝗘𝗡𝗨𝗣𝗨:
𝗢𝗻𝗲 𝗼𝗳 𝘁𝗵𝗲 𝗳𝗶𝗿𝘀𝘁 𝗻𝗲𝘄 𝗨𝗣𝗨/𝗖𝗖 𝗺𝗲𝗺𝗯𝗲𝗿𝘀: 𝗦𝗵𝗶𝗽𝟮𝗠𝘆𝗜𝗗 𝘀𝗵𝗶𝗽𝘀 𝘁𝗼 𝗮𝗻𝘆 #𝗺𝗼𝗯𝗶𝗹𝗲, #𝗲𝗺𝗮𝗶𝗹, 𝗼𝗿 #𝗱𝗶𝗴𝗶𝘁𝗮𝗹𝗜𝗗
As of 1 July 2022, #postal stakeholders which are not #public postal #operators or #regulators can become #directmembers of the Universal Postal Union (#UPU) and cooperate with other UPU members within the UPU #framework through its Consultative Committee (UPU CC). In this series we report on new members and comment accordingly. 
#Digital service provider Ship2myID has been endorsed by the USA and accepted as a new member of the UPU CC. Headquartered in Santa Clara, CA, the company operates a digital service ecosystem that uses #digital #IDs to enables physical #shipments to "digital only contacts". The company allows an email address, mobile number or a social media ID to be securely and conveniently linked to a physical address, facilitating both #directmarketing and #ecommerce shipping.
According to Ship2MyID, the company "has set up and operates a patented #platform which integrates addresses, identity and #customer preferences into one #platform and can enable #posts or #national carriers to become the #digital #data hubs for their respective countries, based on enhanced #dataprivacy and data shielding". Ship2MyID secures its #businessmodel by means of global #patents in its #marketsegment. 
𝗛𝗼𝘄 𝗱𝗼𝗲𝘀 𝗦𝗵𝗶𝗽𝟮𝗠𝘆𝗜𝗗 𝗺𝗲𝗺𝗯𝗲𝗿𝘀𝗵𝗶𝗽 𝗯𝗲𝗻𝗲𝗳𝗶𝘁 𝘁𝗵𝗲 𝗨𝗣𝗨 𝗮𝗻𝗱 𝘁𝗵𝗲 𝗽𝗼𝘀𝘁𝗮𝗹 𝗺𝗮𝗿𝗸𝗲𝘁?
The new #member strives to realize the UPU's #mission of "one unique lifetime address for everyone" and "one postal network" worldwide. "Addressing" has been at the core of the UPU's undertakings. Building on existing national addressing infrastructure, Ship2MyID's #applications provide addressing infrastructures with #digital capabilities, creating alternative and additional #revenuestreams for postal #operators. 
Ship2MyID has already been involved in a variety of UPU #projects. The opening of the UPU CC allows  the company to better integrate its application with postal sector #products and #services.
For the UPU, this new member demonstrates that the #UPU and, above all, its #global digital infrastructure serves as a #unique integrator of networks and services in the postal sector. We assume the company will make its digital #services available via the UPU's #digitalinfrastructure, creating a win-win situation for the UPU, its members, recipients of #postal items, and Ship2MyID.
Click here for the LinkedIn-Article.