𝗥𝗲𝗳𝗼𝗿𝗺 𝗼𝗳 𝘁𝗵𝗲 𝗘𝗨 𝗰𝘂𝘀𝘁𝗼𝗺𝘀 𝗹𝗲𝗴𝗶𝘀𝗹𝗮𝘁𝗶𝗼𝗻 𝗮𝗻𝗱 𝗿𝗲𝗴𝘂𝗹𝗮𝘁𝗶𝗼𝗻 (𝗣𝗮𝗿𝘁 𝟮)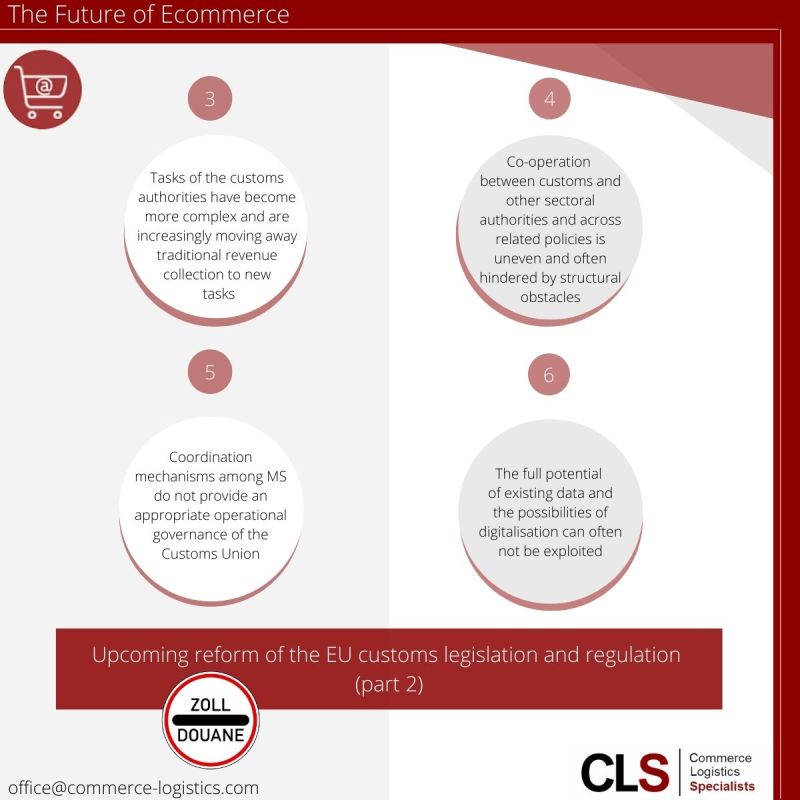 The #EU Customs Union is a #major cornerstone of the EU #SingleMarket and external #tradepolicy, and a #key component in the EU's #strategic autonomy. Annex II of the EU #Commission Work Program 2022 foresees a revision of the Union Customs #legislation to meet the challenges posed by the evolving ecommerce market and EU Ecommerce VAT package:
3. Duties of the customs authorities have become more complex and are increasingly moving away from traditional revenue collection 
New tasks are stretching the available capacities of Member States to the limit. They are required to enforce more than 350 pieces of #EU #legislation covering a wide range of diverse #policy areas. These include: #productsafety; #product counterfeiting and #brand #fraud; #environmentalprotection; #climatechange; #intellectualpropertyrights; dual use goods; #protection of human and animal health; and firearms and smuggling. The Member States need more #resources, know-how, technical equipment and #digitalisation.
4. Cooperation between Customs and other sectoral authorities is uneven and often hindered by structural obstacles
This structural fragmentation #impacts the #availability and #exchange of relevant #data, as well as the #potential to bundle know-how and #resources. While specialised #authorities (environmental protection, agriculture, etc.) depend on Customs for #interventions at the #border, #collaboration on #intelligence building, #identification and #analysis of relevant #risks and #datasharing is currently not systematic or coordinated.
5. Coordination mechanisms among Member States are unable to provide operational governance of the Customs Union
#Coordination is currently either at #political level (Customs Policy Group) or based on #voluntary initiatives (CELBET), effectively preventing the coordinated and harmonized #procedures for #riskanalysis and #riskmanagement needed to ensure uniform results. 
6. It is often not possible to exploit the full potential of existing data and digitalisation 
With respect to #informationmanagement, the #digitalisation of customs processes is on track, and ongoing #investments in trans-EU systems (notably the new #ICS2 and the EU Single Window #Environment for Customs) will bring important added-value in the near #future. However, data are often fragmented across #systems, #owners, and procedure-specific #legal provisions which prevent their #effective use. #Customs authorities are not yet fully exploiting the #digital, algorithm-based risk management systems already widely used in the #privatesector to cope with the enormous #volumes. 
Click here for the LinkedIn-Article.