𝗘𝘅𝗽𝗹𝗮𝗶𝗻𝗲𝗱 𝘀𝗶𝗺𝗽𝗹𝘆 𝗯𝘆 𝗖𝗟𝗦: 𝗖𝗼𝗹𝗹𝗲𝗰𝘁𝗶𝗻𝗴 𝗮𝗻𝗱 𝗥𝗲-𝗗𝗶𝘀𝘁𝗿𝗶𝗯𝘂𝘁𝗶𝗻𝗴 𝗕𝟮𝗖 𝗖𝗶𝗿𝗰𝘂𝗹𝗮𝗿 𝗣𝗮𝗰𝗸𝗮𝗴𝗶𝗻𝗴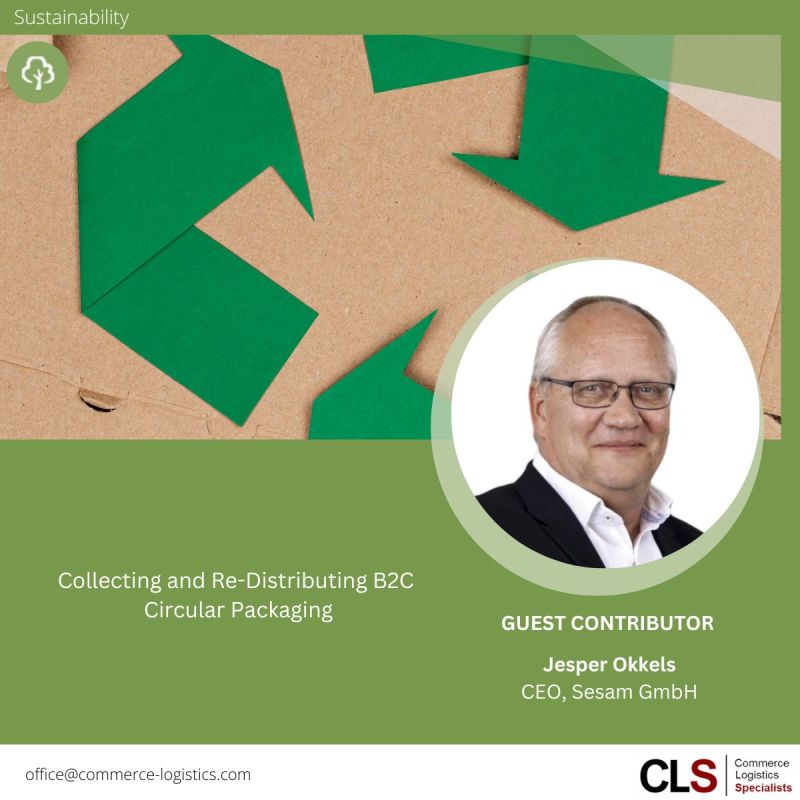 Guest Contributor:  Jesper Okkels, CEO, Sesam GmbH
As part of the EU's Green Deal and Circular Economy Action Plan, the EU Commission aims to ensure that "all #packaging in the EU is #reusable or #recyclable in an economically viable way by 2030". This objective is concretized in its proposed Regulation on Packaging and Packaging Waste (#PPWR):
𝗙𝗿𝗼𝗺 𝟮𝟬𝟯𝟬, 𝟭𝟬% 𝗼𝗳 𝗮𝗹𝗹 #𝗕𝟮𝗖 𝗽𝗮𝗰𝗸𝗮𝗴𝗶𝗻𝗴 𝘀𝗵𝗮𝗹𝗹 𝗯𝗲 𝗰𝗶𝗿𝗰𝘂𝗹𝗮𝗿. 𝗙𝗿𝗼𝗺 𝟮𝟬𝟰𝟬: 𝟱𝟬%
This will have a massive #impact on the packaging and waste #disposal industry, requiring suitable packaging materials, economically viable systems for returns, and high levels of #consumerengagement.
 𝗪𝗶𝘁𝗵𝗼𝘂𝘁 𝗵𝗶𝗴𝗵 𝗰𝗶𝗿𝗰𝘂𝗹𝗮𝗿𝗶𝘁𝘆 𝗿𝗮𝘁𝗲𝘀, 𝘁𝗵𝗲 𝗲𝗳𝗳𝗲𝗰𝘁𝘀 𝗼𝗳 𝗰𝗶𝗿𝗰𝘂𝗹𝗮𝗿 𝗽𝗮𝗰𝗸𝗮𝗴𝗶𝗻𝗴 𝘄𝗶𝗹𝗹 𝗯𝗲 𝗻𝗲𝗴𝗮𝘁𝗶𝘃𝗲
For circular packaging (#CP) with a high production #footprint, the return rate is the most important #success factor: durable CP requiring +20 loops to be sustainable need to achieve a #return rate of +95%. Unless the #cost of returning this CP from consumers, cleaning, and re-distributing to online merchants, is no more than single use packaging, circular packaging represents an added cost for B2C.
𝗥𝗲𝘁𝘂𝗿𝗻 𝗿𝗮𝘁𝗲𝘀 𝘄𝗶𝗹𝗹 𝗱𝗲𝗽𝗲𝗻𝗱 𝗼𝗻 𝘁𝗵𝗲 𝗰𝗼𝗻𝘃𝗲𝗻𝗶𝗲𝗻𝗰𝗲 𝗼𝗳 𝗖𝗣 𝗿𝗲𝘁𝘂𝗿𝗻 𝗶𝗻𝗳𝗿𝗮𝘀𝘁𝗿𝘂𝗰𝘁𝘂𝗿𝗲
The success of CP depends on effective return #infrastructure. In principle, this could take one of 3 forms:
1. #Mailbox installations belonging to postal operators
2. Parcel shops and parcel #lockers run by CEP carriers
3. Dedicated (agnostic) CP collection boxes
However, the #workflow processes used by national postal operators and parcel #carriers are not set up for the reverse flows of cleaning, storing, taking orders and shipping CP back to online #merchants for reuse, as the sheer volume would require a massive infrastructural #change and still be more expensive than a dedicated #network.
Consequently, the only viable #solution is a system of dedicated collection boxes, serviced by low cost/low value #logistics operators with space for #storage and regional centers for sorting, cleaning, storage, and return. This infrastructure can be optimized, e.g., collection and main runs only when a box is full/a full truckload is possible. Regional sorting centers also give online merchants a single source for ordering their CP.
𝗖𝗼𝗻𝘀𝘂𝗺𝗲𝗿 𝗽𝗮𝗿𝘁𝗶𝗰𝗶𝗽𝗮𝘁𝗶𝗼𝗻
#Consumers, in turn, will need to be encouraged to actively return their packaging, perhaps through incentives such as deposits on packaging, or coupons for subsequent #purchases.
So who are the drivers behind this development?
(To be continued)
Click here for the LinkedIn-Article.