𝗘𝘅𝗽𝗹𝗮𝗶𝗻𝗲𝗱 𝘀𝗶𝗺𝗽𝗹𝘆 𝗯𝘆 𝗖𝗟𝗦: 𝗣𝗲𝗿𝗺𝗶𝘀𝘀𝗶𝗼𝗻 𝗕𝗮𝘀𝗲𝗱 𝗗𝗲𝗹𝗶𝘃𝗲𝗿𝘆 𝗣𝗮𝗿𝘁 𝟮: 𝗔 𝗻𝗲𝘄 𝗯𝘂𝘀𝗶𝗻𝗲𝘀𝘀 𝗺𝗼𝗱𝗲𝗹 𝗳𝗼𝗿 𝗽𝗼𝘀𝘁𝗮𝗹 𝗼𝗽𝗲𝗿𝗮𝘁𝗼𝗿𝘀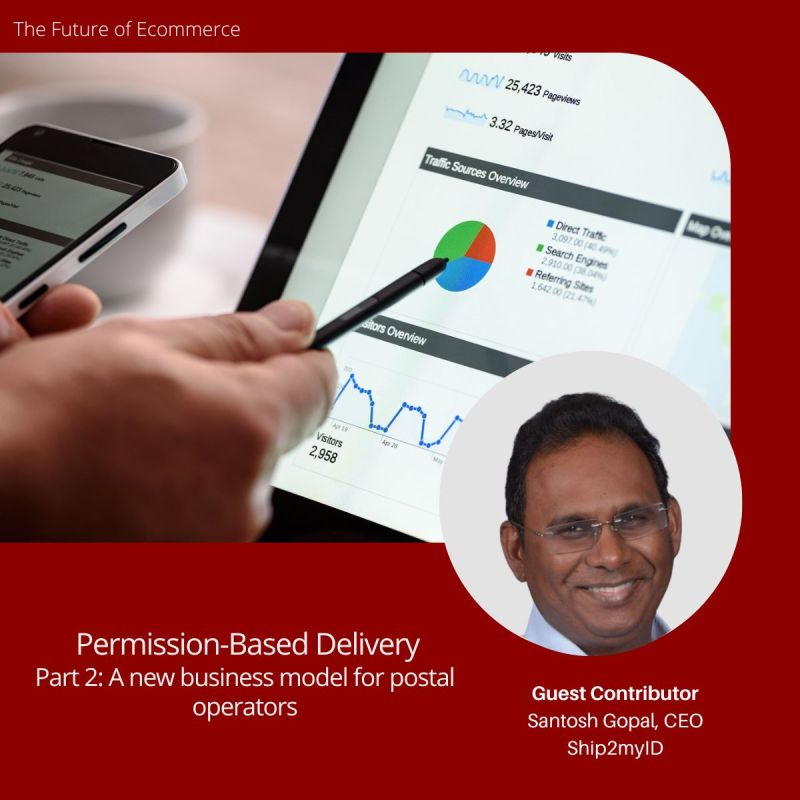 Guest Contributor:  Santosh G.opal, CEO, Ship2myID
Technology, #digitization, and new channels of communication have facilitated the rise of ecommerce globally. Permission-based delivery (#PBD) is a well-established model whose chance to thrive may now have come. #CLS asked Santosh Gopal, CEO of PBD facilitator Ship2MyID, to explain.
𝗪𝗵𝗮𝘁 𝗵𝗮𝘀 𝗻𝗼𝘄 𝗰𝗵𝗮𝗻𝗴𝗲𝗱?
Ecommerce is dominated by online #merchants and #marketplaces using predominantly online/ social media channels to reach customers. In many parts of the world, ecommerce is almost synonymous with #mobilecommerce. These social media-driven lead generation costs can be significantly high, while generating <0.1 % #conversions on average. With marketplace commissions potentially at 15% to 25%, the primary #beneficiaries of this #marketing model are marketplaces and #socialmedia companies.
However, today's sophisticated #technologies can be used to bundle customer preferences, bypass dominant marketplaces, and connect customers directly to #manufacturers or #brands – a much more cost-effective #sales model which can increase brand revenues by as much as 30%.
This permission-based ecommerce offers huge advantages for brands, with direct – although anonymized – contact with customers allowing them to secure a significantly higher share of the #valuechain. This model depends on controlling #customercommunication/advertising and complete (digital) management of the entire #supplychain – which today's technology now makes possible.
𝗪𝗵𝘆 𝗣𝗕𝗗 𝘄𝗼𝗿𝗸𝘀 𝗶𝗻 𝗽𝗮𝗿𝘁𝗻𝗲𝗿𝘀𝗵𝗶𝗽 𝘄𝗶𝘁𝗵 𝗽𝗼𝘀𝘁𝗮𝗹 𝗼𝗽𝗲𝗿𝗮𝘁𝗼𝗿𝘀
In many markets, the designated postal operator (#DO) is the leading #delivery network provider, enjoying good relations with the government, and – crucially – able to identify recipients (national #ID).
In practice, #DOs have proven willing partners for PBD models as many are under increasing pressure from #marketplaces and #commercial express #carriers: collaboration with #internationalbrands, facilitated by technology partners such as Ship2MyD, can bring DO significant additional #revenues as well as greater delivery #volumes.
𝗪𝗵𝗲𝗿𝗲 𝗶𝘀 𝘁𝗵𝗶𝘀 𝗯𝘂𝘀𝗶𝗻𝗲𝘀𝘀 𝗺𝗼𝗱𝗲𝗹 𝗵𝗲𝗮𝗱𝗲𝗱?
Permission-driven direct marketing and delivery can substantially enhance the connection between brands and consumers while safeguarding #consumerprivacy. The considerable profits currently accrued by traditional intermediaries, such as marketplaces and #retailstores, which typically command #profitmargins ranging from 15% to 40%, could be redistributed to benefit brands seeking higher profit margins and consumers enjoying further #discounts. The future of commerce is poised to revolve around permission-driven, direct-to-consumer #commerce.
Click here for the LinkedIn-Article.