𝗦𝘁𝗮𝗻𝗱𝗮𝗿𝗱𝗶𝘇𝗮𝘁𝗶𝗼𝗻 𝗼𝗳 𝘁𝗵𝗲 𝗽𝗼𝘀𝘁𝗮𝗹 𝘀𝗲𝗰𝘁𝗼𝗿 𝗶𝗻 𝗘𝘂𝗿𝗼𝗽𝗲: 𝗤𝘂𝗮𝗹𝗶𝘁𝘆 𝗼𝗳 𝗦𝗲𝗿𝘃𝗶𝗰𝗲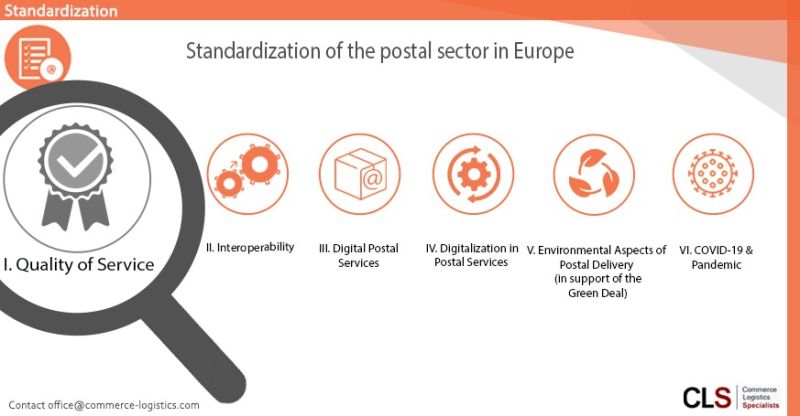 𝗦𝘁𝗮𝗻𝗱𝗮𝗿𝗱𝗶𝘇𝗮𝘁𝗶𝗼𝗻 𝗼𝗳 𝘁𝗵𝗲 𝗽𝗼𝘀𝘁𝗮𝗹 𝘀𝗲𝗰𝘁𝗼𝗿 𝗶𝗻 𝗘𝘂𝗿𝗼𝗽𝗲: 𝗤𝘂𝗮𝗹𝗶𝘁𝘆 𝗼𝗳 𝗦𝗲𝗿𝘃𝗶𝗰𝗲
The European Commission and European #postalregulators have emphasised the need for common rules to develop #community #postalservices and improve of #QualityofService (QoS).
The #Commission has identified #requirements for postal QoS measurement systems, including:
-Independent end-to-end measurement capabilities
-A focus on national and cross-border distribution #serviceperformance
-A single, uniform, and reliable system for monitoring #distribution service performance within the Union
While different postal traditions and cultures in Europe do not allow for the establishment of a single unified European measurement system, and national systems should enjoy sufficient freedom to reflect their specific needs and peculiarities, QoS monitoring and measurement needs to meet a set of minimum requirements in order to satisfy the information interests of the legislators, #regulatoryauthorities, #postalcustomers, and #postaloperators themselves. Only the #standards relating to the measurement of cross-border mail #quality and #complaints handling are mandatory in the EU.
The current technical specifications and standards focus on QoS for:
-Measuring transit time for end-to-end single piece priority and non-priority mail, as well as bulk mail
-Measuring transit time for cross-border parcels 
-Complaints handling principles and redress procedures
-Incorrect delivery, re-forwarding
-Distance to access points
Technical standardisation is indispensable as a means of promoting interoperability between national networks and ensuring the existence of an efficient universal service. Consequently, the #CEN work programme places a special focus on the interests of users and on the Union's current #policy priorities of supporting the 'twin transition' (digital and green) and the digital and single markets.  
One upcoming QoS focus is the review of existing standards related to the #electronicrepresentation of #postaladdresses, and aligning them with #legalrequirements for unattended #delivery and the dynamic, customer-centric delivery of postal items. This may include mobile location #services and mobile applications related to identified individuals, #deliverylocations and the protection of personal #data.
Click here for the LinkedIn-Article.