𝗙𝗹𝗲𝘅𝗶𝗯𝗶𝗹𝗶𝘁𝘆: 𝗧𝗵𝗲 𝗳𝘂𝘁𝘂𝗿𝗲 𝗼𝗳 𝗹𝗮𝘀𝘁 𝗺𝗶𝗹𝗲 𝗱𝗲𝗹𝗶𝘃𝗲𝗿𝘆 𝗢𝗻𝗹𝗶𝗻𝗲, 𝗺𝘂𝗹𝘁𝗶𝗰𝗵𝗮𝗻𝗻𝗲𝗹 𝗿𝗲𝘁𝗮𝗶𝗹 𝗱𝗲𝗺𝗮𝗻𝗱𝘀 𝘀𝗰𝗮𝗹𝗮𝗯𝗹𝗲, 𝗮𝗱𝗮𝗽𝘁𝗮𝗯𝗹𝗲, 𝗹𝗮𝘀𝘁 𝗺𝗶𝗹𝗲 𝗱𝗲𝗹𝗶𝘃𝗲𝗿𝘆 𝗶𝗻𝗳𝗿𝗮𝘀𝘁𝗿𝘂𝗰𝘁𝘂𝗿𝗲𝘀 𝘄𝗶𝘁𝗵 𝗮 𝗱𝘆𝗻𝗮𝗺𝗶𝗰 𝗳𝗼𝗼𝘁𝗽𝗿𝗶𝗻𝘁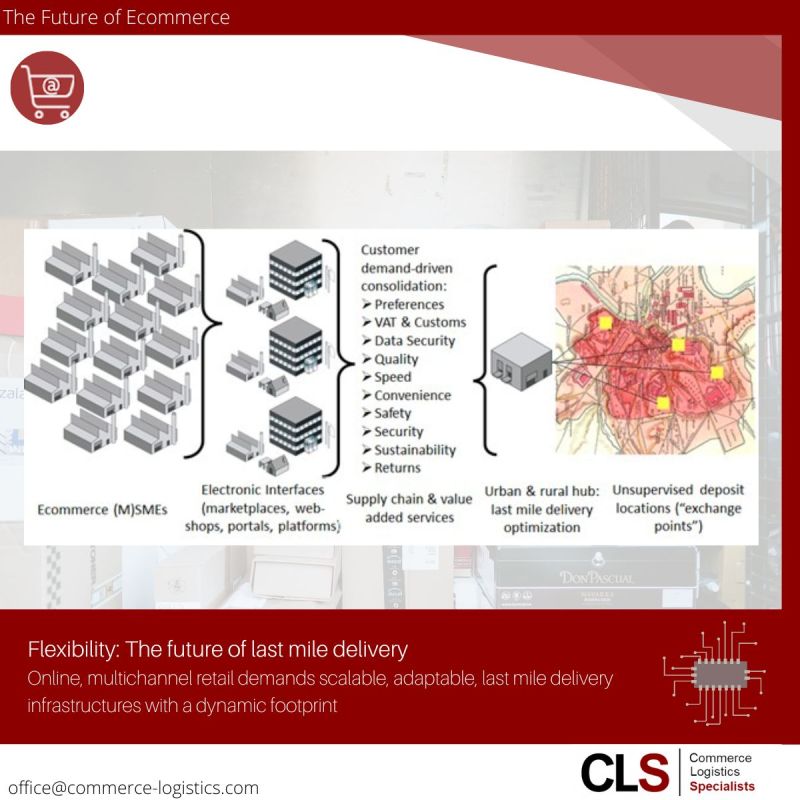 The past two decades have seen significant #efficiency gains in postal #automatization. With growing letter #post #volumes came increased address #readability (OCR) and size #harmonization, #Data generated in sorting centres, by #machine reading, weighing, and sizing #capabilities, was used to raise efficiency and decrease the #cost of #lastmiledelivery which, in many cases, still represents more than 40% of the overall #delivery cost. The more recent increase in #B2C #volumes caused by the #growth in #digitalretail, however, leads to different data #requirements and #solutions.
Today, electronic advance data (#EAD) is mandatory for postal #items containing goods. The first #CEP (courier, #express or #parcel) #operator in the delivery #chain handles these "postal related" data #elements (#sender/recipient/postal fees/insurance/weight/size) and #issues a unique transport ID (barcode) which ensures that the #EAD is directly linked to the individual #consignment prior to its induction into the delivery chain ("Leg 1").
The unique #transport #ID on each consignment is now available to all those entitled to use it along the entire delivery chain. This #changes not only the #systems and #processes of collecting #consignments ("Leg 1") and the #freight and #transport linehaul ("Leg 2"), but most notably the #preparation of "Leg 3" (last mile delivery) where we will see significant cost and efficiency enhancements.
Today's #sorting centres are located on city outskirts, centrally managed, and difficult to adjust to #changingvolumes, #sizes and #weights, and generate high #fixedcosts. However, the #trend towards #decentralization, #scalability, workload-sharing, and #downstream and #upstream access to the delivery chain demands last mile delivery #solutions that are #flexible, modular and easy to deploy or relocate.
This will make flexible solutions which are fully linked to the EAD on any consignment a competitive necessity. This, in turn, ensures delivery event-related information is compliant (#riskmanagement, #safety and #security, #tax and #duties), and makes asset #optimization (optimization and flexibilization of footprint) and even #capacity scalability feasible.
Harmonized transport IDs also allow a variety of different #CEP operators to cover Legs 1, 2 and 3. This is a capability demanded by municipalities who are adapting their smart #cityplanning to incorporate highly scalable and on-demand solutions which can optimize delivery of #B2C #supplies to meet the needs of end #consumers and #recipients.
Click here for the LinkedIn-Article.